Parts > Ball Joints

XRF ball joints are built to perform under the most severe conditions like the oil patch and logging sites.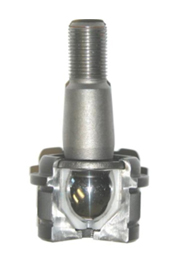 XRF Ball Joint Features:
Cold forged ball stud of SAE4140 steel
Stud heat treatment for omni-directional strength
Triple lip boot seal to keep grease in and dirt out
Forged housings of SAE1045 steel give XRF ball joints the extra strength to have almost double the stud pull-out strength of our competitors
XRF Zero-Lash ball joints have a ball stud that is fully encapsulated in a high strength acetel bearing offering superior load disbusement and longer life.
Call or email us to get our price list or to get set up for ORDER ONLINE and price checks.